2022 Language Fair registration is now closed!
All submissions are due March 9.
If you have questions, please e-mail (onaylf.samnoblemuseum@ou.edu) or call the ONAYLF office (405 325-7588).

Nahwee! Welcome to the 19th Annual Oklahoma Native American Youth Language Fair. This year the fair is completely online. We are so excited to share the hard work of all our participants with you!
The fair goes live on April 4! Be sure to check it out on our official YouTube channel here
How to browse our YouTube channel:
At the top of the "Home" page, you will see the introductory video to this year's Fair. In the introductory video, you will hear our speakers Freddie Lewis and Melanie Frye talk about their language journeys. It includes an opening prayer from Christine Armer (Cherokee), a welcome by our director Raina Heaton and short contributions from our partners, OU Native American Studies (Raymond Orr, Citizen Potawatomi) and the OU Native Nations Center (Brian Burkhart, Cherokee). We have also made a short video thanking our sponsors, accessible on the channel here: https://www.youtube.com/watch?v=344VNoksJCk. Yakoke!
Below the introductory video, you can browse all of the fair submissions. They are grouped together by category (so all Traditional Song submissions together, all Film & Video submissions together, etc.). From there, each category is organized as a playlist, labeled by age group and category. Posters and comics have been put into slideshows by age group so that you don't have to navigate through hundreds of individual videos.
If you click on any of the playlists on the main page, it will automatically play through all of the entries in that category. To go back to the list of playlists, you can click the back button, an arrow pointing to the left, on the upper righthand corner of your window. If you are watching the video on a mobile device, you can exit the video by swiping down with your finger, and then tap the back button on the upper righthand corner of your screen. The winners of each category have a ribbon decal on the video and also 1st/2nd/3rd/Honorable Mention in the title of each video.
If you'd like to search for a particular performance, you can use the search box (indicated by a magnifying glass and the word "Search" at the top, to the right of "About") to search for any performance by title. If you are looking for a particular comic or poster, you'll need to navigate to the video for either Comics & Cartoons or Posters for the right age group, and then skip through the video until you find the poster/comic you are looking for.
Please feel free to leave messages of encouragement to the young people in the comments section of the videos!
The ONAYLF staff would like to extend their gratitude to the Fair's participants, our judges, and our sponsors, and we look forward to hopefully hosting an in-person event next year!
Note: We have no control over what plays automatically after you finish watching a video/playlist; please keep this in mind as you watch through everything with your families.
2022 Fair Guest Speakers

Delores Harragarra
Delores Toyebo Harragarra, age 92, is a full-blood Kiowa tribal member. Her parents were Lewis and Richenda Toyebo. She resides on her mother's Kiowa allotment, two miles west of Carnegie, OK. She was born on that allotment on May 5, 1929.
Harragarra attended elementary school at a two-room country school (Samone), graduated from Carnegie High School in 1947 and from the University of Oklahoma in 1951 with a B. A. in Library Science. Her professional career includes working at the U. S. Army Special Services Library at Ft. Sill and the State of Oklahoma Library in Oklahoma City. She was a librarian at the following Bureau of Indian Affairs schools: Sequoyah in Tahlequah, OK; Chilocco in Newkirk, OK; Concho in El Reno, OK; and Riverside in Anadarko, OK.
Harragarra is one of the few remaining Kiowa speakers. She has volunteered at community Kiowa language classes in Norman for the past several years as a mentor. Currently she is a mentor for the Kiowa Culture and Language Revitalization Program for the Norman area.
Maya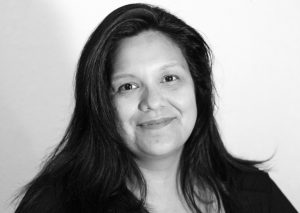 Torralba
Maya Torralba (Kiowa, Wichita, and Comanche) is a lifelong learner of the Kiowa language. She served as the coordinator of the tenth annual Oklahoma Native American Youth Language Fair. Currently, Torralba is a teacher candidate with the Kiowa Language and Cultural Revitalization Program and is a founding member of the Oklahoma Indigenous Theater Company.