The Sam Noble Museum is currently hosting the temporary exhibit, Places of Power: Painted Photographs of Sacred Landscapes by Corson Hirschfeld. The exhibit opened on Jan. 6 in the museum's second-floor Higginbotham gallery, and features breathtaking, hand-painted photographs of sacred spaces including cultural and archaeological sites, landscapes and petroglyphs from over 20 different countries.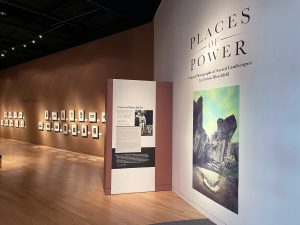 "Sacred places are a link between individuals and the cosmos; the supernatural. It's a place where they can come together, whether it's a shrine in Hawaii or a medieval cathedral," Hirschfeld once said. "I want to achieve the sense of how a site has looked through the centuries; these sites can impress and move us as much as they impressed and moved their creators. They tap the subconscious and inspire responses of reverence and wonder that transcend cultures and time."
Hirschfeld came to Norman in 2006 to be with his wife, Tassie Hirschfeld, who is a professor in the Department of Anthropology at the University of Oklahoma. In his earlier days, he was a herpetologist studying reptiles and amphibians, and he also had a long career as a studio photographer in Cincinnati before moving to Norman. His creative talents included writing, and he published three suspense novels before moving to Norman.
Hirschfeld tragically passed away in April, but his legacy, memories and passion live on in his photographs and paintings.
"Many of the images feature locations that remain sacred for Native people and the memory of these places is inscribed on the landscapes," said Marc Levine, associate curator of archaeology at the Sam Noble Museum. "On many levels, these are truly spectacular places, and many of these are within a day's drive from us in Oklahoma."
Several of the sites are in the four-corners region of the Southwest. To celebrate the opening and enrich the exhibit, Kelley Hays-Gilpin, curator of anthropology at the Museum of Northern Arizona and professor of anthropology at Northern Arizona University, presented an online lecture on sacred places in the Southwest, including rock art, on Jan. 21. The Sam Noble Museum co-hosted the presentation with the Oklahoma Public Archaeology Network.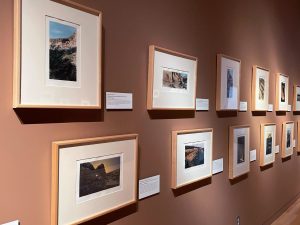 "It was a very successful event, and since it was a virtual event, it was farther-reaching than an in-person event would have been," said Levine. "Kelley Hays-Gilpin is a well-respected expert on rock art and Southwestern archaeology, so it's no surprise she drew a big audience from across the nation."
The presentation was so well-received that another one was planned for the evening of March 24. Hays-Gilpin was joined by Lyle Balenquah, professional Hopi archaeologist and jeweler; Ramson Lomatewama, Hopi educator and glass artist; and Samuel Duwe, OU archaeologist.
"It was nice to have this panel discussion to close the exhibit out," said Levine. "This panel was also special because it included Native perspectives, and I think that Corson would be thrilled that people with an intimate knowledge of certain places of power commented on his work."
Places of Power: Painted Photographs of Sacred Landscapes by Corson Hirschfeld will be on display through May 2.