Members of the community got a glimpse behind the scenes at the first "Archaeology Blitz" event hosted by the Sam Noble Museum's Archaeology Department and the Oklahoma Anthropological Society.
"We were looking for activities and projects where we could help great anthropological and historical collections," said Ray McAllister, OAS member. "Another member of ours suggested we ask if we could do some type of event like this."
Over two days, 16 volunteers assisted with labeling boxes and specimens, inventorying current collection items and preparing specimens for long-term storage. After a brief introduction and presentation led by Susie Fishman-Armstrong, archaeology collection manager, the volunteers split into groups to begin their work.
"Museums never have enough time to make box labels, create dividers and swap out bags to store items," said Fishman-Armstrong. "These types of events help us knock out several little projects all at once."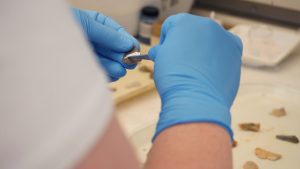 Throughout the day, volunteers rotated throughout various stations so that everyone had a chance to assist with each task.
Many of the volunteers were local, but a few traveled from Tulsa and one even traveled all the way from Sheridan, Arkansas.
Chester Shaw, a retired civil engineer, has been a member of the OAS for about 15 years, and knew he couldn't miss out on this opportunity.
"It's 375 miles and about a nine-hour drive from my home in Arkansas, but this is also nowhere near my first trip to the museum," said Shaw.
Shaw used to attend archaeology lectures presented by former curator Don Wyckoff, many years ago.
"My interest in the museum goes all the way back to the 1960s," said Shaw. "However, in all those years, I've never been inside the collection before, so this was a tremendous opportunity for me."
Many of the long-term archaeology collection volunteers were also excited about the Archaeology Blitz event. Sally Johnston has dedicated her time over the past two years to identifying and labeling artifacts.
"I think this event was great, and I hope they do more of them in the future," said Johnston. "The more people that come in and see the artifacts and see what we do, the more awe they have, and then they go home and spread that awe to get even more people interested."
Since the inaugural event was such a success, the collection plans to host more volunteer blitzes in the future.
"I'm not sure how often we could have events like this, but we'll definitely work with Susie to see what makes sense," said McAllister. "This was my first time up in the collection, and it was such a treat. I'd love to continue exploring opportunities and partnerships like this with the museum."