Earlier this year, the Sam Noble Museum received a large donation of Maya textiles from the Casteñada Museum of Ethnic Costume in Tucson, Arizona.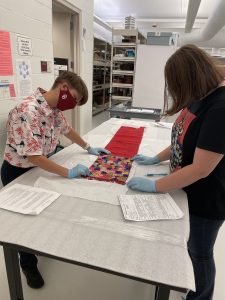 "The donation, which is approximately 250 to 275 pieces, includes textiles from at least 14 of the 22 Guatemalan departments, mainly Totonicapon, Solola, Quiche and Guatemala," said Ella Crenshaw, collections manager of ethnology. "These textiles range in date of creation from the early 1900s through 2000 at the latest, and most date to the 1950s, '60s and '70s."
The types of textiles included are varied, including men's and women's garments, both ceremonial and everyday wear, and non-worn textiles, such as ceremonial cloths.
"One of the exciting things about this donation is that it will significantly increase our collection's strength in Guatemalan Maya textiles, as Maya textiles are already the single largest collection in ethnology," said Claire Nicholas, assistant curator of ethnology and assistant professor of anthropology. "This will help us fulfill our aspiration to become one of the premier collections of Maya textiles in the world (outside of Guatemala), not only in terms of numbers but in terms of representing the chronological, regional and aesthetic diversity of Maya peoples and textile traditions in Guatemala and the larger Maya world."
The textiles are also providing hands-on experience for some of OU's undergraduate students enrolled in an anthropology class, Folklore and Folklife, which is taught by Nicholas.
"The students in this class are able to do an object-analysis project examining select textiles from the new donation," said Nicholas. "We hope to involve students in working with this collection in various ways in the future, whether that be continuing to assist with the accessioning process, doing research on the objects in the donation to bolster the documentation we have about the objects or potentially creating content related to the donation that we can share through social media channels with the public."
While these particular textiles are not currently on display, visitors to the Sam Noble Museum were able to view other Maya textiles from the ethnology collection in the exhibition, Guatemalan Textiles: Heart of the Maya World, which was on display through Dec. 6.