With the Sam Noble Museum's latest online initiative, natural history buffs of all ages can "visit from home" at any time. The initiative, Sam Noble Home, includes STEM activities, educational videos, animal-themed coloring pages and other programs to support learning and fun for the whole family.
"Sam Noble Home was created as a way to deliver quality, hands-on scientific learning to the public while the museum was temporarily closed due to the University of Oklahoma's COVID-19 response," said Jes Cole, head of education. "Spring and summer are the peak times for school groups and visitors to utilize the museum's resources and programming, so it was important that we were able to continue to engage our audiences even if they were unable to visit in person."
In order to provide hands-on and engaging activities, the education department converted existing activities and programs to a digital format, as well as brainstormed new activity ideas.
The result was two different STEM activity series: Mission Possible and Wild about Science! Mission Possible activities encourage people of all ages to imagine, design and create interesting solutions to everyday problems using only common household items. The Wild about Science! activities feature different themes such as weather, plants, ecology and birds. Each theme features four to five activities including experiments, crafts, games and recommended reading.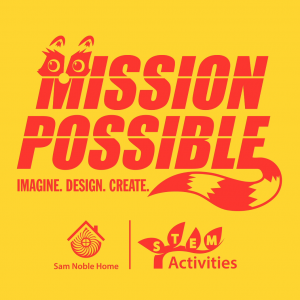 "The goal for our STEM activities was to create scientific programming that could be done at home with minimal supplies or common household items," said Cole. "We also wanted the activities to be doable while practicing social distancing, and we wanted the activities to create opportunities for thinking, making and communicating about the natural world."
Although Sam Noble Home came to life at the onset of the COVID-19 pandemic in Oklahoma, members of the program team will continue to develop and add new content to the platform, even as restrictions are lifted and the museum resumes public visitation.

"Sam Noble Home will continue as a significant outreach tool to share our exhibitions and programs with a national and global audience," said Dan Swan, interim director. "We will use it to create enhanced opportunities and experiences for our diverse audiences."
To aid with content expansion, the Sam Noble Museum has applied for the Institute of Museum and Library Services CARES Act grant.
"If funded, the IMLS CARES Act grant is intended to jointly expand and augment the content of Sam Noble Home and the museum's successful Discovery Kit program through the education department to stimulate inquiry-based science learning in schools and in homes," said Rick Lupia, associate director and head curator. "We will digitize specimens and objects in our research collection to create interactive 3-D models that can be rotated and manipulated online by students and educators as part of Sam Noble Home and as part of the digital kits."
The grant, if funded, will also provide opportunities for additional programming.

"We'll increase a number of the most popular Discovery Kits and introduce new ones for digital delivery and delivery throughout the state," said Lupia. "We will also set up an in-house video studio for digital media creation, including short science lectures and demonstrations."
Although Sam Noble Home's presence is still growing, it's already received positive feedback from members of the Norman community.
"It's a good mix of providing experiments for kids to try out, use their own creativity and still learn good background information on a new topic," said a parent of a fourth-grade Norman Public Schools student. "I have frequently recommended it to others, both in Oklahoma and out-of-state."
Despite the challenges in these unprecedented times, Sam Noble Home has become a resource for students, children, families and fans of natural history.
"Providing our community with opportunities to understand the natural world is the core of our mission," said Cole. "While the museum building may be temporarily closed, museum staff are as committed as ever in creating and delivering educational experiences to Oklahomans across the state."