Over the last year, the Sam Noble Museum welcomed several new staff members. Get to know them below!
---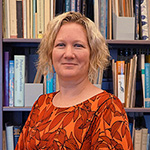 Anna Steele – HR Lead
Anna is originally from Norman and bought her house a block from her parents, so the apple didn't fall far from the tree. She graduated from the University of Oklahoma in 2009 with a bachelor's in multidisciplinary studies and in 2019 with a master's in HR. She took some time off during her studies to start her family and has a 15-year-old son and 8-year-old daughter. Together with her husband of 17.5 years, they have four fur children all named after Marvel characters. In her free time, she enjoys walking her dogs, remodeling her house, reading and watching movies with her family. Her son is involved in a traveling baseball organization so most of her weekends are spent at the ballpark. She looks forward to working at the museum!
---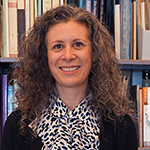 Claire Nicholas – Assistant Curator of Ethnology and Assistant Professor of Anthropology
Claire is a socio-cultural anthropologist by training. Her research employs ethnographic and historical methods to study the everyday practices and politics of making, displaying and interpreting material and visual culture. She focuses on craft and design practice in field sites ranging from Moroccan artisanal textile workshops to North American university architecture studios. As a museum anthropologist, she is also deeply committed to object-based research, the power of visual storytelling and public engagement through exhibits and programming and the importance of collaboration with community stakeholders. She holds a doctorate in socio-cultural anthropology from Princeton University, a DEA from EHESS (Ecole des Hautes Etudes en Sciences Sociales, Paris) and completed a postdoctoral research fellowship in Material Culture & Design Studies in the Department of Human Ecology at the University of Alberta.
---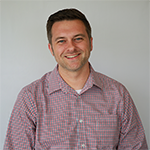 Danny Mattox – Head of Education and Community Engagement
Danny started his career in television, working at stations in Oklahoma, Indiana and Georgia. He developed a passion for teaching after seeing the transformative power of education when he was teaching TV production to the public in Atlanta. From there, he moved back home to Oklahoma, got a degree in science education from OU and became immersed in the world of STEM education. Before joining the Sam Noble Museum in August, he taught middle school science for several years, then moved to the K20 Center at OU for a six-year stint as a science curriculum writer and project director of an educational grant serving 23 rural school districts across Oklahoma. Danny lives in Norman with his wife and kids who are convinced the museum exhibits come to life after dark.
---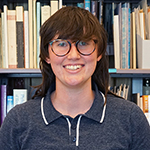 Ella Crenshaw – Ethnology Collections Manager
Ella is originally from Oklahoma City and graduated from OU in 2020 with a bachelor's in anthropology. During her time at OU, she volunteered and interned with the Oklahoma Public Archaeology Network and in the archaeology department at the Sam Noble Museum. She currently lives in Norman and enjoys spending time on Lake Thunderbird and going to OU football games on her weekends.
---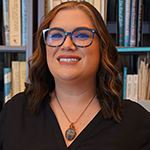 Jessica Cavin – Volunteer Coordinator
Jessica is originally from Miami, OK but has called Norman home for the last 15 years. She graduated from OU in 2015 with a bachelor's in world cultural studies and in 2018 with a master's in museum studies. Throughout her studies, she volunteered at the Sam Noble Museum in a few different areas and it only reinforced the love she has for museums. While in school, she started a wonderful little family. She is the proud mom of two little girls that keep her on her toes and she's married to her high school sweetheart. She enjoys spending time outdoors gardening and soaking up the sun. She also enjoys "geeking out" with her best friends while playing tabletop games and watching scary movies. She loves being involved with the Norman community and this position allows her the wonderful opportunity to get to know some of the most interesting individuals around.
---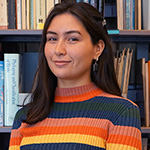 Lisa Ratliff – Public Programs Coordinator
While pursuing her bachelor's in biology, Lisa was taken by the beauty of scientific research and community ties. While at Tulsa Community College, she was granted a summer at USC to study ocean microbiology and visit the Los Angeles Science Center. It was here that she discovered her passion for connecting the community with science. Afterwards, she began to volunteer at her local science center, Discovery Lab in Tulsa, where she began to better understand the roles that science centers can play within society. To finish her degree, Lisa transferred to OU. To continue building her skills as an informal educator, she took a position with Science Museum Oklahoma and later, the Oklahoma Museum Network. Meanwhile, she also aided in the research efforts of the mammalogy department at the Sam Noble Museum. It was during this time, she graduated from OU and began to pursue a master's in science education, also at OU. As the museum's public programs coordinator and a Latina American, Lisa is proud to make the museum more accessible to the Spanish-speaking communities in Norman and Oklahoma by incorporating Spanish language content into her programs.
---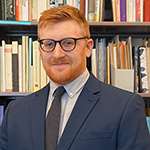 Matt Copeland – IT Lead
Matt grew up in Oklahoma City and moved to Norman with his fiancé, Anthony, and their pug, Layla, four years ago. He started out in film school but ended up switching gears to information technology. He's been in IT for about six years and is currently studying cloud information security. He's loved hiking ever since he was a kid. His parents would take him to Palo Duro Canyon and he still goes every chance that he gets. He also enjoys drawing, photography, making videos and generally being creative. He's a huge audiophile and music nerd. His favorite band is Coheed and Cambria, and he also loves TesseracT, Thank You Scientist, The Phantom's Revenge and Deadmau5.
---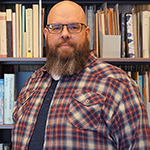 Quinn Floch – IT Technician
Quinn is currently the IT Help Desk Technician at the museum. Born in Ohio and raised just across the state border in Pennsylvania, he moved with his family to Tulsa at the age of 6. He graduated with a bachelor's in geology from OU and worked as an oil field well site geologist for over six years. He is planning to continue on in IT security and network administration. In his spare time, he enjoys fishing and tabletop gaming. At home, he can often be found tinkering with his next Raspberry Pi project. In the summer, he is sure to be working away in his vegetable garden.
---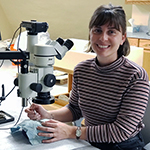 Tia Ruppert – Paleontology Programs Manager
Tia's role at the museum is to create and facilitate fun, inspiring and educational events centered around the science of paleontology. She also supports the museum's paleontology department in fossil preparation and field work. Tia earned her bachelor's in ecosystem science and sustainability from Colorado State University and her master's in geosciences and a museum studies certificate from Fort Hays State University. She is excited to be bringing her love of paleontology and passion for science communication to the Sam Noble Museum. When Tia isn't brainstorming new ideas or working with the museum's fossils, you can find her at the library checking out a book, at home sewing, baking and hanging out with her cats, or on a hiking trail with her husband. Be sure to keep an eye out for new and exciting paleontology programs at the Sam Noble Museum!
---
Tiffany Orr – Head of Visitor Services
Tiffany is excited to be back in Oklahoma after almost two decades away. For the last twenty years, she has been serving as a theatrical stage manager. She was the production stage manager at Theater Latte Da in Minneapolis, MN for over 10 years; however, she spent her summers in Wichita, KS as a part of the MTWichita stage management team since 2010. She truly loved that industry and the people she worked with there, but she is excited for something new. She decided to move back to Oklahoma to spend more time with her family. She enjoys camping and looking for hidden gems in flea markets and antique shops. She has a cat named Gizmo and a Chinchilla named Chili that are perfect. She is happy to be working at the Sam Noble Museum, as it is a beautiful mix of her previous career and something brand new.