Our ExplorOlogy® Paleo Expedition staff are professional scientists and science educators from the Sam Noble Museum at the University of Oklahoma. We value a wide range of professional skills and career paths, to provide a broad set of instruction and perspective to our students. All our staff are deeply passionate about science outreach and education in addition to their professional specializations. 
---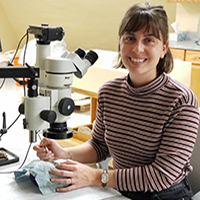 Tia Ruppert
ExplorOlogy® Paleo Expedition Coordinator

Tia Ruppert is a paleontologist and educator at the Sam Noble Museum. At the museum she helps lead science-based lessons and programs for all ages and creates paleontology content for education and outreach events. She also supports the museum's paleontology department in fossil preparation and field work. ​Since 2014 she has participated in paleontological field work across the central United States including Colorado, New Mexico, Utah and Kansas. Most recently, she helped lead a team of students and volunteers to uncover and collect Jurassic-aged dinosaur fossils in Montana. Tia is certified in basic wilderness first aid. Apart from fieldwork, her favorite part of the job is having the opportunity to make science more accessible to all and inspire young girls to pursue the science of paleontology. Tia earned her Bachelor's of Science in Ecosystem Science and Sustainability from Colorado State University and her Master's of Science in Geosciences and a Museum Studies Certificate from Fort Hays State University. 
---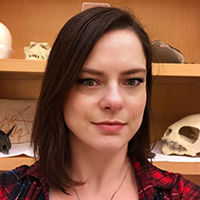 Catherine Carter
ExplorOlogy® Paleo Expedition Educator

Catherine Carter is the lead educator at the Sam Noble Museum. She designs, coordinates and facilitates adult, children and family programs at the museum. She also coordinates the Discovery Room and teaches school group programs at the museum. Catherine has worked in the education department for 11 years. She earned her Bachelor's of Arts and Sciences in Cultural Anthropology and Folklore, with an Ancient History Minor from OU.
---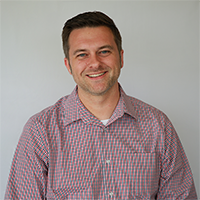 Danny Mattox
ExplorOlogy® Paleo Expedition Educator

Danny Mattox is the head of education and community engagement at the Sam Noble Museum. He also assists with public programs, outreach events and the museum's volunteers.​ Danny earned his Bachelor's of Arts in Broadcasting from Oklahoma City University, Bachelor's of Science in Science Education from the University of Oklahoma and his Master's of Education in Adult and Higher Education from OU.​ The best part of his job is seeing people's faces light up with excitement because of something they've learned, seen or been a part of at the museum.
---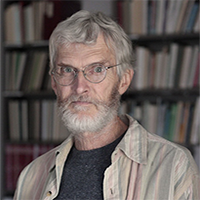 Nick Czaplewski
ExplorOlogy® Paleo Expedition Educator
Nick Czaplewski (Chap-lev-ski) is a curator of vertebrate paleontology at the Sam Noble Museum and has been a scientific advisor for the museum's ExplorOlogy® Paleo Expedition program for 12 years. He is a paleontologist and biologist of Polish and Neandertal ancestry, born and naturalized in the Great Plains of North America. He enjoys engaging others in all aspects of the natural world and honors its land and peoples through direct interaction, reciprocity/caretaking, mentoring, volunteerism and making art. He extends these ideas to his work in deep-time earth history to his perception of Indigenous ecological knowledge, paleogeography and the incredible creative evolutionary potential of life. He understands science as a way of thinking that a lot of people share; the way in which most of us have similar means of encountering the world: seeing, smelling, feeling, hearing and as a result mostly agreeing that something is probably true. As scientists we also sometimes 'play with the rules' in a way that lets us uncover previously unknown patterns or connections that grow our understanding of nature, and of human nature (Blackawton et al., 2010). Nick earned his Bachelor's and Master's degrees at the University of Nebraska-Kearney and his Ph.D. at Northern Arizona University.
---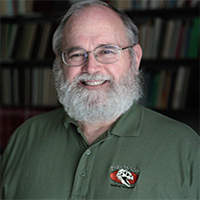 Kyle Davies
ExplorOlogy® Paleo Expedition Field Advisor

Kyle Davies is a paleontologist and fossil preparator for the vertebrate paleontology department at the Sam Noble Museum.  His work includes helping collect fossils, cleaning them out of the rocks they are found in, molding and casting fossils, preparing them for display and repairing broken ones.  He has been involved in mounting a number of skeletons of fossils animals including many on display at the Sam Noble. Occasionally he contributes to research, public displays and museum events.​ Kyle earned two Bachelor's of Arts, in Geology and Paleontology, from the University of California at Berkeley and a Master's of Arts with emphasis in paleontology from the University of Texas at Austin.
---
Jennifer Larsen
ExplorOlogy® Paleo Expedition Field Advisor

Jennifer is a paleontologist at the Sam Noble Museum. She is the collection manager for the vertebrate paleontology collection. She is responsible for cataloging and housing specimens and assisting researchers in the collection. She assists in field work and preparation of specimens. She has done field work in Oklahoma, Utah, Wyoming, Montana, Arizona and New Mexico. She is also actively involved with the education department and museum outreach. She enjoys sharing her love of vertebrate paleontology with students and the public. She has been involved with the ExplorOlogy® program since its beginning, working with students in the collection, preparation lab and at the quarry. Jennifer earned her Bachelor's of Science in Biochemistry from OU and her Master's of Science in Zoology with an emphasis in Paleontology from OU. 
---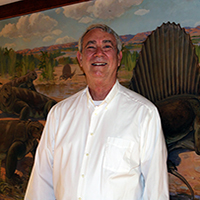 Roger Burkhalter 
ExplorOlogy® Paleo Expedition Field Advisor

Roger is a paleontologist and has been the collections manager of invertebrate paleontology at the Sam Noble Museum since 1998. At the museum, he oversees the one million plus fossils in the invertebrate paleontology collections includes cataloging, digitization, preparation and imaging of fossils from Oklahoma and around the world. He has published scientific papers on a wide range of subjects including invertebrate paleontology, paleobotany, vertebrate paleontology, geology and archeology, mainly on finds in Oklahoma. Fieldwork in Oklahoma has resulted in the discovery of dozens of new species of fossilized animals, two of which have been named after Roger. He has also worked closely with several Native American tribes on fossil resources on tribal lands in Oklahoma. Roger thrives sharing his passion of fieldwork, exploring and for geology and all aspects of ancient life.