Ryan Totten, a graduate student at the University of Oklahoma, spends his day surrounded by thousands of lab partners. The catch is, they're invisible to the naked eye.
Totten has spent the past three years studying ancient pollen and spores, or paleopalynology. 
"I'm actually a geology major; that's the broad term," Totten said. "If you go deeper, you get to paleobotany, then to palynology, which is the Latin term for pollen, or rather fine flour or dust."
Totten's research, Paleopalynology and Taphonomy of the Flowerpot-Blaine Transition in Southwestern Oklahoma, focuses on pollen and spore specimens from the Permian time period that are approximately 275 million years old, and is funded by the Norman R. Gelphman endowment.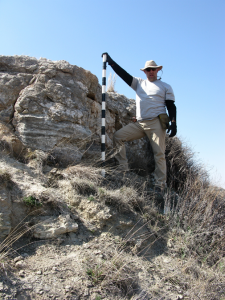 "Believe it or not, cliffs and rocks in specific areas have thousands, if not millions, of fossilized pollen and spores," Totten said. "It's similar to finding vertebrate fossils in layers of rock; however, with pollen, you're not able to see them at first."
After collecting samples from the field, Totten sends them to an off-site lab for maceration. The samples undergo several washes inside different acids, which breaks down the rock but leaves the material the pollen and spores are made out of intact. The lab then sends back tubes and slides filled with pollen and spore samples that Totten can analyze under a microscope.
After viewing the specimens, Totten is able to classify the pollen or spore based on its physical characteristics.
"Luckily, to help with classification, I'm able to follow in the footsteps of Dick Wilson, who was one of the most famous forefathers of palynology," Totten said.
Leonard Richard Wilson, or Dick Wilson, became the curator of micropaleontology and paleobotany at the museum in 1962. His research focused on determining the composition and paleoecology of coals (peat swamps) and his collections extensively document the palynology of 11 of the 17 coal seams in Oklahoma. He served as the department's curator until 1977, and during his tenure, the collection underwent significant growth.
To date, Totten has identified 29 different species of ancient pollen and spores.
"While it may seem like a lot, there's still plenty to do," Totten said. "There's very few people throughout history that have extensively studied this Permian part of Oklahoma."
Even though pollen and spores are microscopic in size, they have huge research implications.
"One of the most important things about pollen and spores is that they tell you the paleoecology, or paleo-biome, of a place," Totten said. "For example, throughout history, we can tell what kind of climate was involved in certain areas based on the characteristics of the pollen and spores. There is a strong link between pollen and spores, and climate."
When the COVID-19 pandemic began last year, it delayed some of Totten's research.
"I was not able to do any field work, but I was able to work with Dr. Lupia, associate director and head curator," Totten said. "We were able to amend my research scope to include only the research I had completed up to the time that COVID-19 hit."
Despite some obstacles, Totten is slated to finish his research in May.
"My research is part of a continuing scientific endeavor," Totten said. "I've built on what other people have done in the past, and hopefully people will build on mine in the future. That's the nature of science – wanting to know more about the natural world."