Earth Rocks!
Theme
Geology, Paleontology
Specimens Included
Fossils and fossil casts (trilobites, brachiopods, ammonites, crinoid stems, Deinonychus claws, juvenile Tenontosaurus jaws, bison teeth, ground sloth claws, Allosaurus teeth, ferns, Apatosaurus teeth, Calamites and shark teeth) and rock specimens (basalt, gabbro, granite, limestone, quartz, rhyolite, sandstone and slate).
Activities Included
"Erosion": Students will discover how erosion affects the surface of the earth through a game and an experiment that investigates different types of erosion.
"Rock Layers": Students will discover how the layers of the earth help us figure out the age of rocks and fossils by excavating and identifying fossils.
"Oklahoma Rocks": Students will identify different types of Oklahoma rocks and explore how they help us understand our state's past.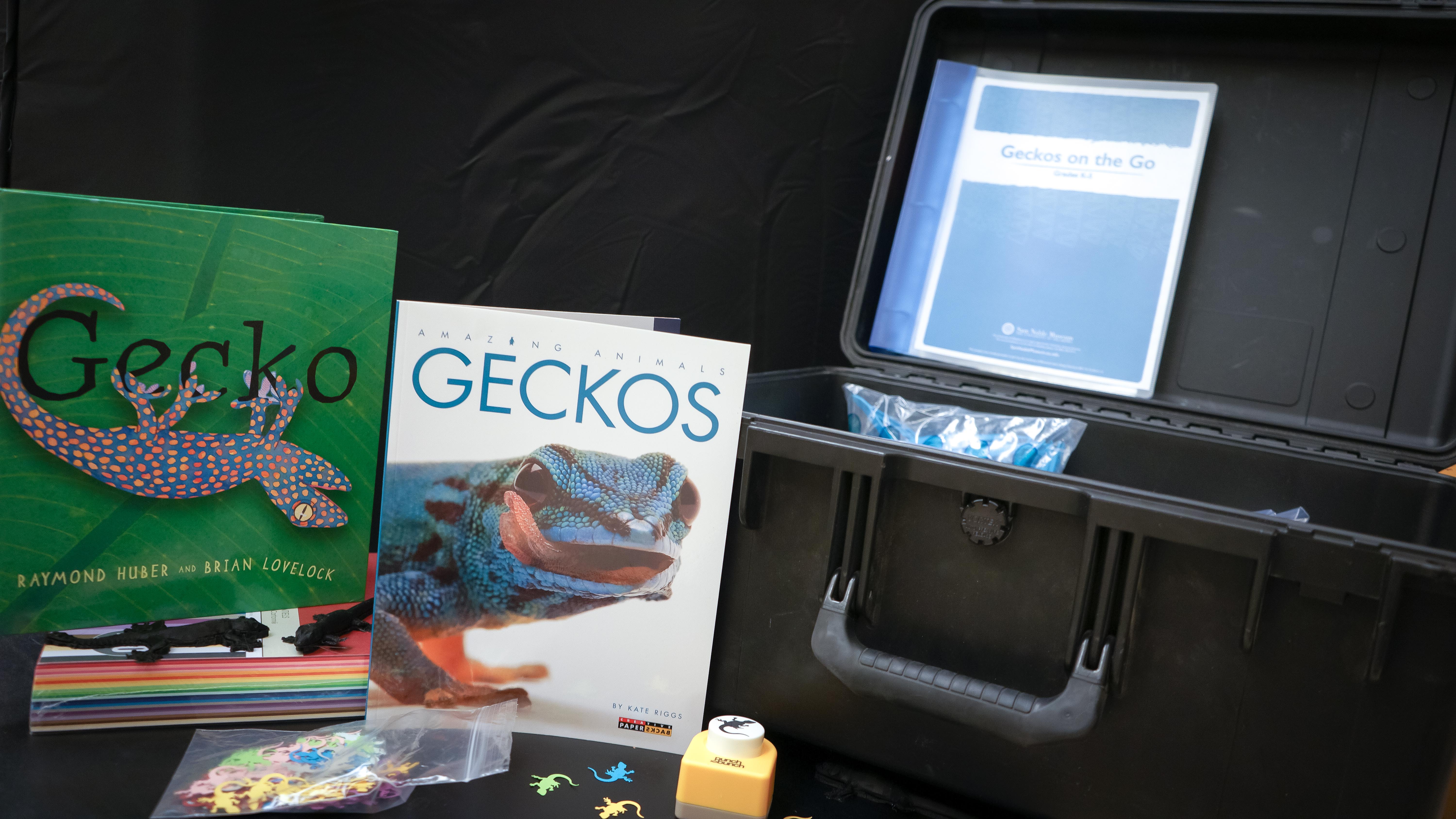 Geckos on the Go
Theme
Amphibians, Reptiles, Lizards, Camouflage, Adaptations, Flying vs. Gliding, Natural Selection
Specimens Included
3D print-out of the three lizard species
Activities Included
"Introduction to Geckos": Students will understand how body color and shape may help geckos survive
"Geckos in Flight": Students will understand the differences between powered flight and gliding by performing an experiment that models gliding in animals
"Avian Predation": Students will perform an experiment that models camouflage and predation
Okie Animals
Theme
Biology, Adaptations, Ecosystems
Specimens Included
Cottontail rabbit pelt, snowshoe hare pelt, beaver pelt, muskrat pelt, barred tiger salamander, red-eared slider, belted kingfisher, Missouri river cooter shell and eastern meadowlark
Activities Included
"I Can't See You!": Students will learn about adaptations by performing an experiment that investigates camouflage in the wild.
"Wetland Connections": Students will discover how living and nonliving things are connected in an ecosystem by creating a food web based on an Oklahoma wetland.
Oklahoma Artifacts
Theme
Archaeology, Native American culture
Specimens Included
Artifacts (turtle shell paint kit, flintknapping kit, moccasin, sewing kit, pump drill, scraper, Folsom point, bison tooth, bifaces, chert flakes, deer jaw, net weights, Dalton points, clam shells, stone ax, daub, shell beads, stone hoe, Spiro points, obsidian flakes, incised pot, corn cobs and quartz) Natural Resources (stone, chert, copper, hematite, porcupine quills, bison hide and fur, horseshoe, conch shell, effigies, sinew, Bios d' arc wood, river cane, deer antler and turtle shell)
Activities Included
"People of the Plains": Students will explore artifacts and natural resources to discover how people on the Plains in Oklahoma used natural resources, like bison, to survive.
"Site in a Box": Students will utilize artifacts, replicas and other objects to determine what happened at real Oklahoma archaeological sites including the Cooper site, Spiro Mounds and Chickasaw homesites.