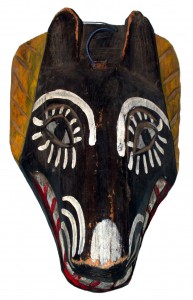 All over the the world, special occasions require special clothing and the Maya are no exception. Many of the rites of passage, particularly baptisms, weddings, and funerals, require clothing styles that are specific to that event. More generally, though, fiestas require that attendees wear special clothing. Sometimes this special clothing is easy for even outsiders to recognize: masks worn for dances at fiestas, elaborate costumes worn during mock tiger fights, clothing worn by young girls in Ascension Day processions to illustrate the life of the Virgin Mary. In other cases, fiesta clothing may by differentiated by subtleties in weaving technique or type of material used. In some communities brown cotton, as opposed to the more plentiful and easier to weave white cotton, indicates that a huipil is for ceremonial use only.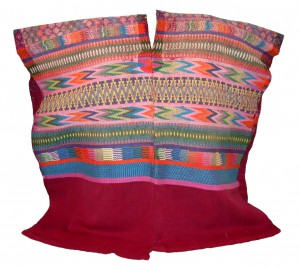 Weddings throughout Mesoamaerica vary in their degree of formality. In some cases this is merely regional variation in tradition. In other instances, the financial and social standing of the families of the bride and groom determine the elaborateness of the ceremony. Maya families who are relatively wealthy, live in more urban areas, or who are devoutly Catholic have very different wedding ceremonies than more traditional rural families.
Wedding attire for the bride and groom vary accordingly, from Western style gowns to traditional ceremonial huipils.
The wedding huipil shown left is from San Antonio Aguas Calientes, a Kaqchikel community in Guatemala. The upper portions of this huipil are heavily and intricately brocaded, and at one time the neckline and arms were adorned with additional decorations. Perhaps embroidery or applique were added to make this huipil even more special. In the 60 years since this huipil was made, these decorations have since been removed, perhaps to be used on another huipil.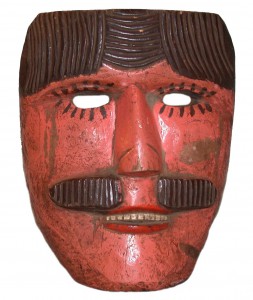 Fiestas can be held for all sorts of reasons and usually celebrate special events like weddings, birthdays, or historical events. Sponsorship of a fiesta is a major undertaking, and families will save resources for months, even years, to sponsor a fiesta, especially if that fiesta is in honor of a Catholic saint. The sponsors of a fiesta, in essence, hold a celebration for the entire community and must provide food, drink, fireworks, music, and other entertainment.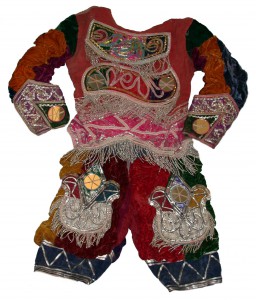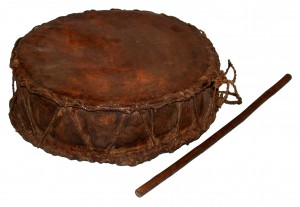 The music for fiestas may be provided by professional musicians or by hastily assembled musicians playing rustic instruments, like this drum from Nahuala, Guatemala.The quality of the music notwithstanding, dancers provide much of the entertainment. They may reenact community conflicts, stories and myths, or historical events, like the Conquest. The mask and costume at right are part of a Conquistador outfit from Nahuala. Other components include a cape, a hat, and a blonde wig.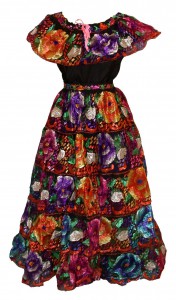 Dancers aren't the only ones who dress up for fiestas. These celebrations are an opportunity for everyone to put on their best outfits. Here are some examples of fiesta attire.
This blouse and skirt are from Chiapa de Corzo, Mexico. The ruffle at the neck and the entire skirt are embroidered with a large floral design.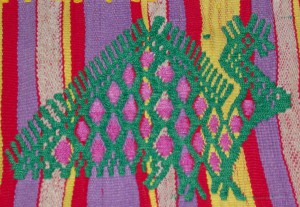 This huipil is from San Juan Sacatepéquez, a Kaqchikel community in Guatemala. The colors of the fabric are characteristic of San Juan Sacatepequez huipils. Birds are brocaded on the back, bodice, and shoulders. The neck is edged with green crochet. A close-up of the brocade is shown on the right.