The backstrap loom, an example of which is shown to the right, is deceptively simple. For the most part, it consists of sticks, rope, and a strap that is worn around the weaver's waist. This strap is how the backstrap loom received its name. This simple technology means that almost anyone can own a backstrap loom and that the loom can be set up almost anywhere. This mobility allows the weaver to work indoors or outside, at a neighbor's house or in the marketplace, while keeping watch over the children or while chatting with friends. And the backstrap loom can be adjusted to fit any weaver, from the child learning to weave to an adult master weaver.
Using the backstrap loom, a weaver can produce fabric with a plain weave. Most simply, this is an over-under-over-under pattern.
Unlike the treadle loom, the backstrap loom allows the weaver to brocade designs into the fabric as it is woven. Brocade can be woven with a supplementary weft, added along with the ground weft. The elaborate brocading of huipils has given Maya weaving its distinctive character.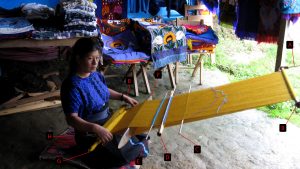 A = A cord or rope is used to tie the loom to a tree or post.
B = End bars are used to hold the warp (vertical threads) to the upper and lower ends of the loom.
C and D = Shed rods maintain the crossing of the warp's threads.
E = The heddle rod lifts alternate threads of the warp.
F = The batten helps to separate alternate threads of the warp to allow the bobbin (G) to pass through them. The batten can also be used to tighten the weft (horizontal threads) as they are woven.
G = The bobbin, containing the thread of the weft, passes from side to side between the warp.
H = This belt is worn around the weaver's back and connects her to the loom. The weaver controls the tension on the warp by leaning backward or forward.
For a comparison of backstrap and treadle weaving, see this page.