The Department of Native American Languages provides several services for audio and video recording and for dubbing older media recordings.
Making Original Recordings in the Museum Recording Studio
The Sam Noble Museum houses a recording studio run by Media Technician Michael McCarty. We record individuals, such as teachers or speakers, or language programs and classes, who wish to document Native American languages or create teaching materials for Native American languages. Mr. McCarty has created a comfortable recording environment for elders and others not used to being recorded.
Here are some examples of recordings made in house:
• Chickasaw Nation elders talking about childhood memories, telling stories and singing hymns
• Mvskoke Creek instructor reading the first two books of the Mvskoke New Testament
• OU students recording Native American Church songs
• Choctaw instructor creating video about shape note singing
• Osage instructor recording a traditional story to be used in wintertime classes
Video Documentation
NAL can help you create original video documentation of individuals and events away from the museum. We take professional audio and video equipment to wherever you request. This is especially helpful for elders who cannot travel or to record cultural events as they happen.We only record events when we are asked and only after obtaining permissions.
Here are examples of recordings we have made on site:
Wichita elder for tribal audio teaching materials
Arapaho Native American Church singing evening
Euchee elders showing how to make a baby hammock
Cheyenne elder documenting war society histories and songs with the Cheyenne Cultural Center
Two-day Choctaw revival at Bethel, Oklahoma
How to Schedule a Recording Session
Recordings are made by appointment. We prefer at least two weeks notice to set up a recording session in the museum or on site at your location. Larger, multi-day events will need additional planning and may need additional financial support through small grants.
Please contact the curator Daniel Swan at 405-325-1600 or at dcswan@ou.edu for more information about this service or to make an appointment.
What does this service cost?
The service is provided free of charge to Native American speakers, instructors, and language and cultural organizations (the creator) for educational and documentation purposes. We cannot make recordings for commercial purposes; this is especially aimed at recordings of music cds.
We ask that the creator(s) deposit a copy of all or parts of the recording in the collections for public use. This is helpful for other language teachers and students, in addition to housing a safe copy. However, donating a copy is not required for help in documenting sensitive cultural events.
The creator(s) will receive an unedited (raw) and an edited version the recording. We can do post-production editing of audio recordings, and some post-production video editing. Creating films is the responsibility of the creator or instructor. We can do this type of involved editing only if we have student help available at the time or financial help from small grants.
Creator(s) own the recordings, so they may further edit, copy, and distribute the recordings as they wish.
Oklahoma and Sticky Tape Syndrome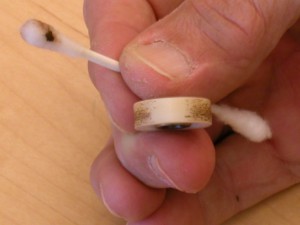 Do you have old reel-to-reel recordings at home? We stress: Do not play them at all even if you have a reel-to-reel player.
Why shouldn't you play reel-to-reel tapes? They react to moisture in the air, such as the high humidity of Oklahoma summers. The moisture seeps into the emulsion on the tape. This is known as sticky tape syndrome. You cannot see sticky tape just by looking at it. If you try to play the tape, all of the emulsion will come off of the plastic backing, basically taking all of the information off the tape. To the right is a picture we took of the emulsion that came off of a tape with sticky tape syndrome.
NAL has trained staff and an up-to-date lab to take care of your old reel-to-reels. We can play any size and speed of reel-to-reels. Make an appointment with us to care for your your valuable recordings and to dub them to modern formats.