The department of Native American Languages (NAL) provides several services for preserving older media recordings and creating new recordings.
Oklahoma and Sticky Tape Syndrome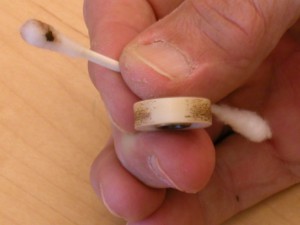 Many Native American languages are captured on old, analog (non-digital) media formats, including VHS, audio cassette, and reel-to-reel tapes. Countless hours of stories, songs, conversations, dances, and other unique moments in history have been recorded on tape. They are often found amongst family collections. Applied to analog tapes is iron oxide — a chemical substance that ultimately captures and holds the recorded sounds, thereby serving as a vital component to the tape's function. 
Tapes, by nature, have a limited shelf life. Each time a tape is played, microscopic pieces of iron oxide can flake off. In addition, tapes react to moisture in the air, such as the high humidity of Oklahoma summers. The moisture seeps into the tape, forcing the iron oxide to liquefy and become runny, or swell, break apart, and flake off the tape. This is known as sticky-shed syndrome (also known as sticky tape syndrome). As a result, the recorded information may be permanently lost; the sound distorted and damaged. 
It is very difficult to see sticky-shed syndrome just by looking at it. Due to the speed in which tape players operate, if you try and play a tape with sticky-shed syndrome, all of the coating will likely come off the plastic tape backing. The image shown here, photographed at the Sam Noble Museum, shows flakes that came off of a tape with sticky-shed syndrome. 
Preventing Sticky-Shed Syndrome 
To help prevent sticky tape syndrome, analog tapes require special care. Some basic steps include storing tapes vertically in acid free protective boxes or containers, and in a clean environment with little to no shifts in temperature and relative humidity (roughly between 50 – 70 degrees Fahrenheit; relative humidity between 20 – 40 percent). 
An advanced measure is tape baking. In essence, tapes can be baked at a low temperature (130 – 140 degrees) in a specialized tape oven. This process attempts to reverse sticky-shed syndrome by driving water molecules out from the emulsion coating, temporarily restoring the tape so that it can be safely copied to another tape or migrated to another format altogether. 
This table outlines the duration, as well as special instructions, for baking tapes of different sizes. 
| | | |
| --- | --- | --- |
| Tape Width  | Baking Time  | Notes  |
| 1/4"  | 1 – 4 hours  | Position near top of oven  |
| 1/2"  | 2 – 5 hours  | Position near top of oven  |
| 1"  | 3 – 6 hours  | Turn tape over each hour  |
| 2"  | 4 – 8 hours  | Turn tape over each hour |
Tape Preservation Services in the Native American Languages Collection 
The Native American Languages Collection (NALC) houses hundreds of hours of original analog audio and video recordings that document the Indigenous languages of North America. In our efforts to help preserve these languages, a continuous long-term project is the conversion of analog recordings to more contemporary media, including audio and video files and digital discs. 
Since 2002, NAL has partnered with dozens of Native American families, individuals, and groups to preserve their language recordings. This includes recordings in the Apache, Arapaho, Caddo, Cherokee, Cheyenne, Chippewa, Choctaw, Comanche, Crow, Dakota, Delaware (Lenape), Iowa-Oto, Kansa (Kaw), Kiowa, Muscogee Creek, Omaha-Ponca, Osage, Quapaw, Seminole, Sauk, Shawnee, Tewa, and Tonkawa languages, among others. 
Tapes are properly cared for, treated, and digitized in NAL's audio/video laboratory, where we can transfer most any size and speed of tape. Make an appointment with us to care for your valuable recordings of Native American languages by calling 405-325-3332 or email us at language.samnoblemuseum@ou.edu.
Making Original Recordings in the Museum Recording Studio
The Sam Noble Museum houses a recording studio run by the Native American Languages collection staff. We record individuals, such as teachers or speakers, or language programs and classes, who wish to document Native American languages or create teaching materials for Native American languages. We endeavor to create a comfortable recording environment for elders and others not used to being recorded. Here are some examples of recordings made in house: • Chickasaw Nation elders talking about childhood memories, telling stories and singing hymns • Mvskoke Creek instructor reading the first two books of the Mvskoke New Testament • OU students recording Native American Church songs • Choctaw instructor creating video about shape note singing • Osage instructor recording a traditional story to be used in wintertime classes.
Video Documentation
NAL can help you create original video documentation of individuals and events away from the museum. We take professional audio and video equipment to wherever you request. This is especially helpful for elders who cannot travel or to record cultural events as they happen.We only record events when we are asked and only after obtaining permissions. Here are examples of recordings we have made on site:
Wichita elder for tribal audio teaching materials
Arapaho Native American Church singing evening
Euchee elders showing how to make a baby hammock
Cheyenne elder documenting war society histories and songs with the Cheyenne Cultural Center
Two-day Choctaw revival at Bethel, Oklahoma
How to Schedule a Recording Session
Recordings are made by appointment. We prefer at least two weeks notice to set up a recording session in the museum or on site at your location. Larger, multi-day events will need additional planning and may need additional financial support through small grants. Please contact the curator Raina Heaton at 405-325-7588 or at rainaheaton@ou.edu for more information about this service or to make an appointment.
What does this service cost?
The service is provided free of charge to Native American speakers, instructors, and language and cultural organizations (the creator) for educational and documentation purposes. We cannot make recordings for commercial purposes; this is especially aimed at recordings of music cds. We ask that the creator(s) deposit a copy of all or parts of the recording in the collections for public use. This is helpful for other language teachers and students, in addition to housing a safe copy. However, donating a copy is not required for help in documenting sensitive cultural events. The creator(s) will receive an unedited (raw) and an edited version the recording. We can do post-production editing of audio recordings, and some post-production video editing. Creating films is the responsibility of the creator or instructor. We can do this type of involved editing only if we have student help available at the time or financial help from small grants. Creator(s) own the recordings, so they may further edit, copy, and distribute the recordings as they wish.