Winners of the 2018 Oklahoma Native American Youth Language Fair
Thank you to the performers, judges, sponsors, museum staff, teachers, families, and spectators for making the 16th annual Oklahoma Native American Youth Language Fair a success! To view a .pdf of the winners of each category, click the links below:
Information on the 2019 Fair will be posted in the near future, so please check back.
If you have questions, please send an email to onaylf.samnoblemuseum@ou.edu or call (405) 325-7588. The ONAYLF office is open Monday through Friday from 9 a.m. to 1:00 p.m.
2018 Fair Poster Art Theme
The theme for the 2018 ONAYLF Poster Art category is "Dreaming In My Language."
New In 2017
We are pleased to announce that because of the Sam Noble Museum's longstanding work with the Oklahoma Native American Youth Language Fair, the museum received the 2017 University Museums and Collections Award from the International Council of Museums! ONAYLF Program Director, Dan Swan, accepted the award in September 2017 in Helsinki, Finland.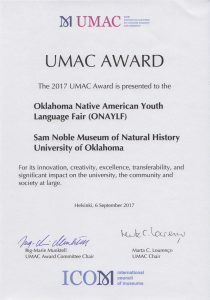 Changes for the 2018 ONAYLF
Film & Video material submissions will be accepted in .mp4 format for 2018. Be on the lookout for more information on file naming and submission. Submissions will still be accepted on flash/jump drives and DVD.
Comics & Cartoons, Film & Video and Language Advocacy Essays will be accepted via-Dropbox. Click here for instructions.
2018 ONAYLF Keynote Speakers
The keynote speaker for Monday, April 2 is Desireé "Storm" Brave Jones.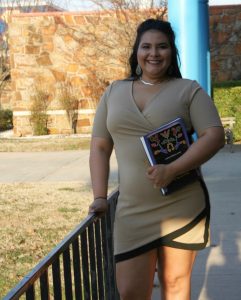 Desireé Jones (Osage, Citizen Band Potawatomi, and Cherokee) is Director and Master Teacher at the Kaw Nation Language Program. She currently teaches 114 students, in three separate classroom sites, and this number continues to grow. The Immersion Class she established is in its second year, and has 2 fulltime students that attend faithfully. Mrs. Jones' great grandmother was the late Maude Rowe, the last fluent speaker of the Kaáⁿze Níkashiⁿga. Mrs. Jones attended the Oklahoma Native American Youth Language Fair when she was in kindergarten and participated every year until she graduated high school alongside her brother, Dewey. Mrs. Jones and her brother assisted Dr. McBride with many activities while building the Kaw Nation Language Department.
Her maternal grandparents are the late Elmer and Naomi Clark, Kaáⁿze and Citizen Band Potawatomi, respectively. Her mother is Little Carol Clark, Kaáⁿze/Citizen Band Potawatomi; her father is David Brave, Osage/Cherokee. Mrs. Jones and her husband, Jordan, Muskogee Creek/Cherokee, reside in Kaw City, Oklahoma and have two daughters, Maudie May and Tiger Vera.
Tuesday, April 3 will feature keynote speaker Juanita Pahdopony.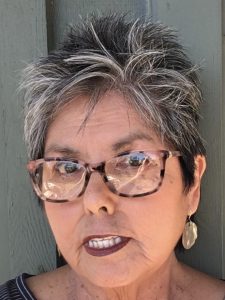 Juanita Pahdopony (Comanche) is an educator, poet, writer, painter and past president of Comanche Nation College. She holds a Masters in Education degree from Oklahoma City University and has taught at Elgin Public Schools, Oklahoma City University, University of Science and Arts of Oklahoma, Cameron University, and Comanche Nation College.
Ms. Pahdopony is a member of the Southern Plains Indian Museum Association, Wordcraft Circle of Native Writers and Storytellers, National Advisory Caucus and the Jacobson Foundation. She has published articles, reviews and poems in academic and public outlets and is well-known for her live presentations of traditional stories and poetry in local, state, and national venues. She has given numerous presentations related to art, poetry, and language revitalization and her artwork has been exhibited in galleries and museums throughout the United States. Ms. Pahdopony has also served as a technical advisor and crew member for numerous movies and television shows including "The Son," "Fry Bread Babies," "The Hostiles," and "Thistle Creek." Pahdopony is a passionate advocate for tribal language preservation through education.
2018 Tentative Schedule
Tentative scheduling of events for days 1 and 2 of the Fair are now available. Click on the following links to view a .pdf version of the event schedules. Note: numbers in parenthesis indicate the number of students in the groups.
2018_Day One Simplified Block Schedule