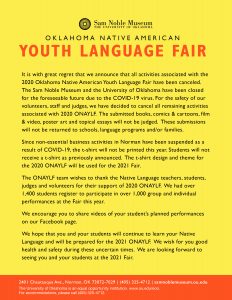 2020 Fair Invitation Letter
 2020 Fair Poster Art & Topical Essay Theme
The theme for the 2020 ONAYLF Poster Art & Topical Essay theme is "Living Life Through Language."
If you have questions, please send an email to onaylf.samnoblemuseum@ou.edu or call (405) 325-7588. The ONAYLF office is open:
Wednesdays 9 am to 1:00 pm.
2020 Fair Guest Speakers
We are delighted to announce our guest speakers for the 2020 Fair: Freddie Lewis and Melanie Frye.
Freddie Lewis is a member of the Choctaw Nation of Oklahoma and has been a Choctaw Language Instructor at the University of Oklahoma for over six years. He teaches beginning and intermediate Choctaw language classes in the Native American Studies department, and is also a Community Teacher accredited by the Choctaw Nation of Oklahoma. Freddie is a leader in his community, both as an established song leader of Choctaw language Tribal Hymns and as the current interim president of the Oklahoma Choctaw Tribal Alliance. 
Freddie Lewis is married to Leandra Lewis, and they have a daughter Cara Lewis, who is herself a past participant in ONALYF for the Choctaw language. Freddie is also a descendent of Tobias Frazier (August 7th, 1892 — November 22, 1975) who was Choctaw Code Talker during WWII and served as a member of the 142nd Infantry, Company E. Freddie is also an avid sports fan, and loves both watching and coaching when he's not teaching Choctaw.
Ms. Melanie Frye is Muscogee (Creek). She holds a bachelor's degree in Anthropology and Native American Studies and is currently working on her Master's in Native American Studies at the University of Oklahoma. Her passion is to continue working in the revitalization and perpetuation of the Mvskoke (Creek/Seminole) language. She considers it a blessing to be able to work with and learn Mvskoke. She is also the Mvskoke Creek/Seminole language instructor at the University of Oklahoma.

Melanie has recently presented at the Newberry Consortium in American Indian Studies (NCAIS) Graduate Conference in Chicago. She will also be presenting at the Symposium for American Indian Languages in Tucson in April.