2019 Fair: Day 1 & 2 Winners
The winners for both days of the Oklahoma Native American Youth Language Fair are below. Thank you to all our participants and their parents and teachers, judges, volunteers, and attendees. We look forward to seeing you next year!
2019 ONAYLF 6 to 12 Grade winners
2019 Fair Guest Speakers
Our speakers for the 2019 ONAYLF are Michael Elizondo, Jr. (Monday, April 1) and Yvette Dawn Cassadore (Tuesday, April 2).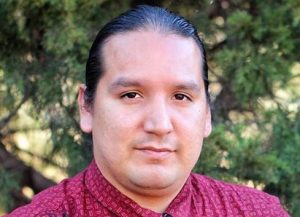 Michael Elizondo, Jr., a Southern Cheyenne tribal member of the Cheyenne and Arapaho Tribes of Oklahoma, is a descendant of the Kaw and Chumash tribes. He earned his Bachelors in Fine Arts (BFA) from Oklahoma Baptist University in 2008 and his Masters in Fine Arts (MFA) from the University of Oklahoma in 2011.
Elizondo primarily dedicated his time exhibiting and teaching art among various colleges in the state of Oklahoma until the Fall of 2016. In that time, he joined the Cheyenne and Arapaho Language Department to participate in a Master Apprentice (MA) Immersion program granted through the Administration for Native Americans (ANA). Elizondo is currently the Cheyenne Lead Apprentice, his role has been to organize and apply effective learning methods to MA immersion sessions and community classes between elder speakers and learners. Today he continues his art practices, as well as his dedication to learning and teaching the Cheyenne language.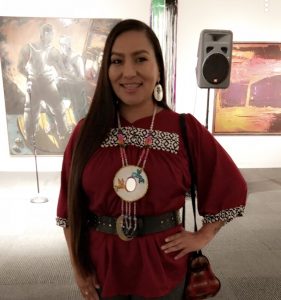 Yvette Dawn Cassadore is from the Rocks Strung Out Into Willows People clan of the San Carlos Apache Tribe from Arizona. She is a senior at the University of Oklahoma majoring in Native American Studies with an emphasis in Tribal Governance, Laws and Policy. Yvette is also a member of OU's Sigma Alpha Lambda Honors Organization.
2019 Fair Poster Art & Topical Essay Theme
The theme for the 2019 ONAYLF Poster Art & Topical Essay categories is "Growing In My Language."
If you have questions, please send an email to onaylf.samnoblemuseum@ou.edu or call (405) 325-7588. The ONAYLF office is open:
Tuesdays 11am to 5pm   —   Wednesdays 9 am to 1:00 pm   —   Thursdays 11am to 5pm
New for 2019
Category Changes:
The ONAYLF Steering Committee has made the following changes to the Performance and Material Submission Categories for the 2019 ONAYLF.
New Category:  Spoken Language – Skit/Short Play Performance
If your students are doing a skit, short play or puppet show, please register them in Spoken Language – Skit/Short Play Performance.   Monologues, storytelling and other Spoken Language performances can be registered as Spoken Language.  Spoken Poetry and Spoken Prayer Categories remain the same.
Category Change: Topical Essay
The Essay Category has changed to a Topical Essay on the same theme as the Poster Art Category.  For 2019, the theme is "Growing in My Language".
Category Change: Comics and Cartoons
The Comic and Cartoon category is for single and multiple pane comics and cartoons.  Comic books and graphic novels should be entered in the Book Category.
Category Change: Poster Art
The maximum poster size for the Poster Art Category is 11 x 17".  Posters larger than this size will not be accepted. 
Make sure to download the Category Guidelines on the Category Page for all of the information on each Performance and Material Submission Guideline.