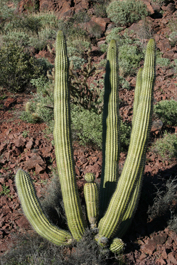 Scientific Name: Embryophyta
Status: Extant (alive today)
Oldest fossil anywhere: Ordovician of Arabian Peninsula (about 475 million years old)
Oklahoma fossil record: In rocks deposited during the Devonian through Cretaceous Periods, and the Miocene and Pleistocene Epochs.
Land plants possess all four of these characteristics:
1. Archegonium – a vase-shaped structure that surrounds and protects the egg and, later, the developing embryo.
2. Cuticle – a waxy coating that covers the surface of the plant to stop or slow loss of water.
3. Pores/Stomata – openings in the cuticle that allow air in and out.
4. Sporopollenin – a chemical in the walls of reproductive cells—spores and pollen—that makes them resistant to drying out and breaking apart.
(All rights reserved), R. Lupia, used with permission.
Each of these features evolved in response to a problem faced by plants because they were not living in and surrounded by water. Botanists recognize six major living groups (Liverworts, Hornworts, Mosses, Lycophytes, Pteridophytes, and Seed Plants) within land plants, plus many more groups (e.g. Archaeopteridales) that are now extinct. Fossils from the groups Lycophytes, Pteridophytes, Archaeopteridales and Seed Plants can be found as macrofossils in Oklahoma.